Some facets of Isle of Wight Medical History. Alan Champion.
These notes have been collected over several years
Prehistory.
Records are scanty but bones found give a clue to some of the ailments and injuries that left signs in the bones. Injuries causing death are easily recognised. Mesolithic, 6000 b.c hunter gatherers roamed and by ?4000 b.c Neolithic farmers had built round barrows on the downs The Long stone at Mottistone was about 2000 b.c. Ante-mortem injuries with signs of healing in fractures suggest that some means of immobilization were used. Wear and tear, osteoarthritis is found as well as signs of progressing bone disease. A hard diet produced severe wear on the grinding teeth, premolars and molars.
Romans,
Celsius ,a layman of 1st century Rome wrote an encyclopaedia of which only one part, 'De Medicina', is extant. It is a fine survey of Graeco-Roman medicine of the time. Pliny, the Elder his contemporary also wrote a generalised account in Historia Natruralis a compilation from available sources at the time. It is less informative because he quoted all his sources without editing so that much of little value and absurd theories are included,. Pliny quoted Cato ( 234-149 B.C ) who regarded the physicians coming to Rome from Greece with disdain.
"The Greeks are a quite worthless people. When that race gives us its literature it will corrupt all things. Even the more if it sends hither its physicians". Cato's medicine was a mixture of magic incantations and animal and vegetable remedies administered internally and externally. Cabbage was his favourite cure-all
Celsus and Pliny were both rich landowners and regarded the care of all aspects of their estates their right, priding themselves in an ability to supervise the health and well-being of the household The healing craft of artisans and foreigner were regarded with suspicion and open hostility. The cure was entirely derived from the remedy and could be administered by the 'pater familias' ,or his nominee.
There was also an attempt to ward off disease by augury or divination to establish
Roman medicine remained unsophisticated until 295 B.C. when a plague struck Rome and assistance sought from outside i.e the Greek god, Asclepius and a temple to him was built on an island in the Tiber outside the Roman walls . With the departure of the plague th standing of the Greek physicians increased. The ascent of Greek medicine to the theories of Galen has been well documented
The Roman Villas on the Island give a fine insight to the quality of life at this time.
Brading Villa. A separate bath wing is incorporated
Fitness, food and hygiene were the three branches into which Medicine became divided
Medicines were usually herbal or mineral .
Diseases of women were usually treated by wise women
The surgeons were usually experienced in military medicine .
Gods and magic were invoked by priests and shamans.
Drugs and death were major preoccupations.
Anglo-Saxon healers were often found in monasteries and sometimes the monks had military backgrounds.( See St Guthlac of Ely)
Anglo-Norman doctors came to England with William the Conqueror. An account of Anglo-Norman medicine can be found in Anglo-Norman Medicine by Tony Hunt Volume 1of 1994 and Volume 2 in 1997.
Some medical care was provided in the Infirmaries of Monasteries but the treatment was only given under very restrictive rules. The first hospital on the Isle of Wight was the Leper Hospital at Gunville in the 13th century, which was maintained by St. Augustine's Priory at Carisbrooke and treated by the monks. Isabella de Fortibus made a regular allowance of one silver mark a year for the hospital.
Medieval doctors are described in
'The Medical Practitioners of Medieval England'
By Talbot and Hammond.
John Reyne mentioned as a physician of Newport, IOW. He was one of a group receiving a pardon from Henry VI for offences committed between !6th. Aug 1445 and November 1451the date of the CPR 1446-52 #507.
John Reyne, a leech, of Newport, Isle of Wight, was one of a group receiving a pardon from King Henry VI for any offences committed between 16 August 1448 and 20 November 1451, the date of the pardon. (C. P. R. 1446-52.p 507.) This is the earliest reference to a named medical professional that I have found for the Island.
Before the seventeenth century care of the sick was often by women of the household. The wife or mother of the patient used simple remedies often based on experience handed down from their mothers and often involved the use of herbs and sometimes charms and magic. Cures for simple disorders were quite effective but the conditions treated were usually self -limiting and the medicines helped to control the symptoms. More serious illnesses and accidents often proved fatal and epidemics of smallpox, plague and other infectious diseases had very large mortality and morbidity rates. which played an important part in shaping social history . If the family were unable to help the sick, wise and experienced women of the district often provided further remedies, again usually herbal or based on "simples". These women were at risk of being accused of witchcraft. The wives of the gentry sometimes were able to help, not only their families and friends, but also their servants and farm-workers. They often had stillrooms where they prepared and preserved produce of the estate and also had supplies of fresh and dried herbs, used in making medicines.
By the middle of the seventeenth century apothecaries appeared in large towns. They were, at first, grocers, but then, after long apprenticeship, they specialised in treating the ailments of the townsfolk and the inhabitants of the countryside around. They gathered and grew native herbs but also utilized exotic imported herbs and spices.
Only the very rich could afford to consult the early physicians who had usually studied abroad in cities such as Padua and Leyden. They usually practiced in large cities and only in the later years of the seventeenth century did they appear in market towns
Barber-surgeons, often men who had learnt their craft in the army or navy, provided care for the injured and opened veins for blood letting. They also later practised in country towns.
On the Isle of Wight, several apothecaries had premises in Newport by 1650.1
I. Thomas Silvester, Will 1610 B 65 0865 Buried Newport 4th .Dec 1609
II. Richard Warder Will 1720/ A/111,
III. Anthony Maynard, Will P. C. C. wills1657-1660 Fol.464 I think that Anthony Maynard's mother Elizabeth took over her husband's practice until her son, Anthony, could take over. She issued a token in her own name.
IV. 1689 Anthony Maynard City of London and the IOW Fol. 113 Vol xi 1686 –93 Principle probate registry , Somerset House. P 187 St Martins Ironmonger and IOW Hants 1696/ AO68/1-2
V. Thomas Junning (Jenning) Will 1662?ADO/1-2 and Jane his wife
Physicians and surgeons also came to Cowes and Newport about this time.2 Licences to practise were issued They were able to visit the rich in their homes, travelling at first on horse-back and later by carriage along roads which were often in a very poor state of repair and with numerous gates along the way.
Whitehead quotes on page 80."The roads we travelled over were either uneven rocky ground or full of loose stones ;and the gates were set so thick across the highways that we never saw the like in England.
I was told by an apothecary that he got up one night and took horse, in haste, to visit a patient not two miles off, and had fifteen gates to open on the way."
From the Gentleman's Magazine; A visitor to Bonchurch in 1753.3
The following medical men were practising in Newport in the 17th. Century. These details are from the Card Index at the County record office and. other local sources.
Dr James of Newport Queen Elizabeth's physician circa 1590 Son of Mark James , merchant and bailiff of Newport.
Benj. Jolliffe ( and ? James ), surgeon (s) of Newport 1791
Thomas Hearn, Surgeon, Newport about 1670.
William Loving, Surgeon, Newport 1670
John Hearn, Surgeon, Newport 1710.
Lynn Dr., Surgeon of Cowes 1799 Friend of George Morland
Marriott J. H., Surgeon of Ryde. 1837
Dr George A. Martin, Ventnor. 1836
Dr R Marwood , M.D., Newport. 1795
Maywood, Physician Newport. 1791
Dr Thomas Ogle, Carisbrooke. 1804
Dr George Pedder Brading. 1792
Rookley, John. Surgeon, Newport. 1702.
Alicia Gilbert of Pan married Mr John Rookley, Surgeon of Newport.
"Upon Oct.5th. 1702 Mr Gilbert of Pan ,near Newport to Northwood and not being at home he procured the key of the church from the sexton and he himself married his eldest daughter to Mr John Rookley of Newport, surgeon."
Simes ( Simms) George, surgeon. Brading 1839
Smith James. Chyrigeon, Newport 1730 In 1698 James Smith was a the corner house The Falcon High Street. From 'Newport pubs' Kevin Mitchell, p.286 Buckle and Drew Docs at the CRO
Spreetz George, Surgeon Northwood 1777
Swan Robert c. Surgeon St James's St Newport
Syme Hugh, Surgeon, Newport 1791
Charles Tarrant, Surgeon, Brading. 1771
Tuttiett John, Surgeon, Quay St., Newport, 1839 Father of Maxwell Gray, author
Waterworth, Thomas, Surgeon, Newport. 1790
Kernot. Surgeon, Gloucester House Cowes. 1839 Prop. The Medical Hall High St.
Millidge. Chemist High St Newport 1840 'Leeches 4d each'.
William Jones, Surgeon at Cowes 1745.
Thomas Juning. Apothecary Newport 1642.
Dr James Player Lind. Westmont Ryde. 1839
Dr Harrison, High St. Newport is mentioned in the Hearth Tax Returns on page 76 and 164.He paid for 7 hearths in 1665 and again in 1673.He was buried in Newport on the 29th Feb. 1679/80. C.R.O. Dr Harrison a daughter of Mr Edward Harrison buried Newport3rd.Dec 1663
Harrison Margaret Daughter of Edward baptised Newport 4th. April 1666
Mary Harrison married Thos Gill, Chyrigeon, of Newport in Yarmouth 1696
Edward Harrison, Newport Buried 29th Feb 1679/80
Dr Forster (Foster), High St is mentioned in the Hearth Tax Returns on page 185.He paid for 5 hearths in 1674
William Delacourt,( Dallicoat ) barber surgeon of Newport Isaac Maynard married his daughter on 7th June 1654.
Eldridge5 mentions Thomas Stockwell, of Newport in 1685 when the Corporation granted him,, the freedom of the town " to use and exercise the art, mystery or trade of a Barber Chirugeon in the Borough and to keep a shopp".
In 1702 John Rookley, surgeon of Newport, was 'married' at Northwood to Alicia Gilbert the eldest daughter of Mr Gilbert of Pan, by the said Mr Gilbert who had taken the keys of the church, in the absence of the minister, to conduct the service.
There was a Dr Edward Harrison in Newport in 1765 when he married Sarah Salter
Sir John Oglander records a Dr Lewkenor practicing in Brading and also gives in his accounts two bills paid to the Doctor.6..
Facets of Island Medical History from 'A History of Newport, old and new. 2003 .
Medical attention at the House of industry. It would appear that this aspect of all the organisation was in general beyond reproach but it was a very lucrative position .In the 1770 Messrs Barlow and Son plus a Mr Bassett were appointed surgeons and apothecaries for the ensuing year at the salary of £175 . The scourge of the 18th century was smallpox and some sufferers were brought into the House. Others were treated in their homes but if a mother died leaving children a woman would be sent from a house to take care of them. In 1790 for a sum of not exceeding at £210 was allocated for the purpose of erecting a brick building where smallpox patients could be received. Doctors will well paid for their skills as can be demonstrated in the report that Mr Waterman was given five guineas from amputating the hand of William Fry, a servant in husbandry to the Reverend Worsley of Whitcomb. Bearing in mind that in the absence of anaesthetic, alcohol being all that was available, perhaps the money should have been given to the patient. The first signs that the health service of sorts existed were demonstrated in a minute of 1823. Information given the all paupers who give being all within two miles radius of Newport could visit the House of Industry's surgeons at the dispensary in Castlehold between the hours of eight and ten in the morning. By 1832 had this assistance was extended to the whole of the Island
1814 That Martha Macket a nurse in the House, be dismissed from her situation for having admitted soldiers into the house at night, permitting them to bring liquor and to spend the night with prostitutes under punishment. In 1826 the Committee is requested to set aside some particular room or rooms for the occupation of the loose women who may be admitted to the House.
Lunatics and idiots.
For almost half a century care of the mentally ill and those born mentally retarded played little part in administration of the House of Industry. That they were present there is no doubt just part of the composition of society, but literacy was widening the gap and the care of the mentally incapable was to become an administrative problem.
A solution seemed to be at hand when Dr Finch of Lavestock, Wiltshire made an offer to take care of all lunatic paupers of the Island. This offer was accepted with the proviso that one of the surgeons of the House and Industry would visit Lavestock quarterly. In December 1819 the visiting surgeon was refused permission to see the patients in their cells and realising that all was not well they were withdrawn and returned to the Isle of Wight.
By now however legislation had been introduced making it illegal to retain lunatics in the House and a separate building known as the Carisbrooke Lunatic Asylum was constructed. By 1852 there was more legislation brought in requiring that lunatics should be housed in a County Asylum and that Isle of Wight did at this time not have one they were transferred to Knowle Hospital at Fareham. Whitecroft, our local asylum would not be opened until 1896. A special ferry was chartered in March of 1853 at a cost of £7-7s-0d when 13 male and 29 female patients were transferred. Idiots however could be retained by the House of the industry and remained there well into the 20th century. In October 1926 the institution advertised for a female attendant to working the imbeciles, with a salary of £40 per annum plus living apartment washing rations and uniform all included.
As in the beginning as previously stated all parishes had individual poor houses but once the House of Industry had been established all the islands destitute were channelled within its walls. The title however makes it clear that only the very young the sick and the aged would receive "board and lodging" free of charge. For those capable of work no avenue was left unexplored. The Board of Guardians, rarely refused opportunities to supply local Labour although they did show more humanity than many others did up and down the country. Classic example of this was the case mentioned of Valentine Gray, apprenticed to a Newport at chimney sweep. He was a workhouse boy but did not come from our local establishment his origin being in the workhouse at Gosport. To their credit the Island authorities refused such placements to other chimney sweeps or publicans but the latter will rescinded in the middle of the 19th century when unemployment reached unmanageable proportions. Another opportunity the decline was to send young children to the spinning mills. One excellent source of income was however to put girls out to service, and the masters then subsequently abused many of these. That was no problem for by paying a sum of money to the Guardian's the girl could be returned to the workhouse and no questions were asked, in fact many cases the girl was supplied.
Idiot starved to death in the Isle of Wight Workhouse.
Such a headline as that above would today caused uproar, not only because the cause of death but for the language used, but in 1877 it was quite common indeed even around 20 years later when the Asylum was opened up Whitecroft was described as "a home for lunatics". . Nevertheless the death of this poor unfortunate in 1877 caused a great deal of local scandal and send shock waves through the body of 'gentlemen' which made up the Board of Guardians, the authority that looked after a poor within the workhouse.
Edwin Cooper came from Brading where he lived with his mother she gave evidence that she was only allowed two shillings a week and nothing in the world coming in besides. Some friends of hers had persuaded her to place a sum in the workhouse where they said he would be well looked after, she would be would visit him on a regular basis. At the time that a sum was at home she stated she was unable to earn any money so reluctant me she had agreed to having admitted. At this time the difference between an idiot and a lunatic was that the former was allegedly born of feeble mind as opposed to the latter developing symptoms after birth. Who among those who gave evidence on his demise was the male nurse Mr James Wilson, Mrs Emma Booker who was in charge of the idiot ward plus a very well respected local medical officer Mr Loftus Beckinsale They all testified that in their opinion, the patient was treated in a fair and reasonable manner. However this clashed with the fact that at the time he was admitted on a 26th February and the time he died just one month later his physical appearance had changed dramatically. Following an autopsy carried out by the formidable Mr Barrow, the surgeon from Ryde he was asked by the Coroner to stage his opinion as to the cause of death. "Starvation" he stated. Whereupon there followed months of local acrimony and finger-pointing that ended with an inquiry by the local government Board.
The report at the end of May was devastating for the Board of Guardians in was recommended that the immediate dismissal two nurses, Wilson and Booker for gross dereliction of duty and the censuring of the workhouse master and called for the resignation of Mr Beckinsale. They further stated that they had no jurisdiction to direct punishment, but deputy medical officer who just happened to be Mr Beckinsale's son but stated that he would never have any subsequent appointment conformed by their Board.
They ended with the statement that it was their opinion that the management of the Infirmary generally had not been sufficiently controlled by the Medical Officer or within the knowledge of the master of the workhouse or the Guardians themselves.. For the Board made up of a group of almost 50 local men of power and wealth this was scathing criticism
The board requested a meeting with the inquiry team but they were unable to convince them to change their decision there was a also a half-hearted attempt to defy the decision to dimmest dismiss Mr Beckinsale who had been Medical Officer to the Board for over 30 years, but it was proposed and seconded by to misguided members that he be reinstated. As all the appointment had to be confirmed by the same group of officials that had just dismissed him, it was real act of stupidity and misguided loyalty that, from time to time, even today, is taken by those invested with power.
1911 The Isolation hospital at Fairlee Now the site of our Hospice. Dr Gibson was in charge with Matron, Miss Peppercorn.
Dr D. L .Beckinsale, M.D.
See The Island Quarterly Vol. 1 – 1877-8, p 230.
A Central Hospital for the Isle of Wight.
The Medical Register of 1779 was the first systematic record of British doctors and on page 72 the following Isle of Wight Doctors are given: -
Newport Messrs Rich Cowlam* and Ed. Oriel Cowlam*
Messrs James *and Benjamin Jolliffe
Mr Richard Bissett.
Cowes Mr Rook Thorold and Mr George Spretz.
Brading Mr Charles Tarrant.
Godshill Mr Richard Ebrill.
Yarmouth Mr Francis Deacon.
* These three doctors expressed a willingness to vaccinate patients against smallpox in the Salisbury Journal of 1767.
Arnold- Forster in "At War with the Smugglers", page 99, mentions 'Old Cowlam' of Newport, Surgeon and Apothecary, who he hopes will help him with an epidemic of Measles in his family.4 .
In 1830 it was suggested that a doctor should be provided by the Board of Guardians of the Poor in each of the rural areas but because of the remoteness of Ventnor and the Undercliff and the poor pay I can find no evidence that one was provided here. Pigot's guide 1830 gives the following
' Surgeons' :Brading George Sine.
Cowes, West and East, John Davids, High St.
Charles Day, High St.
Newport James White Basset, St James' St.
Robert Bloxam, High St. Ø
William Buckle, Pyle St.
Cass Buckler, High St.
William Lemprière, Medina Ave.
Robert Swan, Corn Market.
Thos. Lawrence Waterworth, High St and Sandrock Cottage.
Robert Wavell, Quay St.
Ryde William Houghton. Banks, Union St.
William S. Joberns.
George Pedder, Upper Ryde.
George Pedder, Jnr. Union Street.
Yarmouth Jno. Clark, gent. Surgeon.
Robert Bloxam M.D. came from Warwickshire to Newport about 1910. His family motto was " Dum Spiro Spero,
'While I have breath, I hope'. This was later the motto of the .Royal National Hospital
In 1830 'Philo Vectis', wrote in 'The Isle of Wight Tourist and Companion at Cowes ". 'The Happy Return' laden with tin was wrecked on Warden Ledge in 1827. The master had put into Yarmouth to obtain assistance for a female in labour on board, and the vessel later drifted on this dangerous bank. Mr Wavell of Newport * whose benevolent ardour, in his profession had led him to visit the woman a second time (contrary to the advice of the boatmen,) fell a victim of his honourable assiduity, and was drowned; but most of the crew were saved."
Hospitals.
The nearest Hospital was the Winchester County Hospital founded in 1736 and was funded by private subscription and was the first of its kind out of London. (Provincial Medical Directory 1847) Records of the transfer of inmates from the I.O.W. House of Industry to Winchester County Hospital exist. .Portsmouth, Portsea and Gosport General Dispensary and the South Hants Hospital, Southampton also treated Island patients at a later date
The Isle of Wight Infirmary, Ryde, opened in 1849.
Ventnor's first hospital was the National Hospital for Consumption later the Royal National Hospital for Diseases of the Chest which was founded in 1868 and opened in 1869. Dr Eric Laidlaw has written a comprehensive history of the hospital, which closed in 1964. In 1904 the Ventnor and Undercliff Isolation Hospital was opened and it was used for infectious diseases until 1942. In 1939 patients were still being taken to this hospital by horse ( donkey) drawn ambulance.
Notes.
Shanklin Spring was first described by Dr Frazer, a physician to King Charles II (quoted in Monopole's Shanklin Spa
Ventnor.
The first references I have found for Doctors in Ventnor are :
1) The Estate Map of 1729 shows Dr Harvey holding a small plot of land in Cook's Farm.( Whitehead p.107 )
2) Dr Bowdler was in St.Boniface House in 1820.This house was regularly let at this time so Dr Bowdler, 1754-1825, M.D. Edinburgh 1776, F.S.A.1784, was probably a short stay visitor and it was he who wrote the works of William Shakespeare for family readers i.e. 'bowdlerised ' them Family Shakespeare, 1818 in 10 volumes.
The first medical men came to Ventnor to practise in the early nineteenth century, and the arrival of the doctors with an account of the early years of medical care in the town is provided by Mark Norman.7
He says," About the year 1836 a lame man supported by two crutches (Dr Doswell)............the brothers George and John Martin were the first medical men to live in Ventnor. From this time the residents of Ventnor and district were able, if they could afford it, seek medical attention without the need of a visit to another town."
It is interesting to see how quickly the new town grew. The census returns give us a good measure of the growth. In 1841 the population was 900.
In 1851 the population was 2569.
In 1861 the population was 3208.
In 1871 the population was 4841.
The further records of the doctors in the Island are available from the Provincial Medical Directory of 1847 and 1852 and from then on accurate lists of doctors are available in a regularly published Medical Directory. The General Medical Council was formed in 1858 and from that date Doctor's were admitted to the Medical register only on qualification.
After 1858 doctors trained at Medical Schools attached to Hospitals where they `walked the wards' and when they had passed the examinations to qualify they worked in hospitals as resident junior doctors and stayed in hospitals acquiring experience and higher qualifications if they wished to specialize. If they decided to enter General Practice they could `put up their plate` and start a new practice or take over a practice from a previous doctor by purchase. Some young doctors became assistants to established doctors and hopefully took over the practice at a later date or became a partner. After the advent of the National Health Service in 1948 the sale of N.H.S.practices was not allowed and doctors were appointed by the Local Executive Council (later Family Practitioner Committee) and N.H.S. doctors were not allowed to practice in over-doctored (restricted) areas. Partnerships flourished and partners were able to nominate new partners and replacement partners. Assistants were only allowed if the workload was very heavy. Entry into general practice is now restricted to doctors completing vocational training i.e hospital work in relevant fields and a trainee year with an approved training doctor.
Many of the Ventnor doctors mentioned are buried locally and their gravestones are easily read.
Dr Coghill made a trip to Berlin in 1890 and returned with a sample of Dr Koch's 'lymph'. Tuberculin .
He gave a lecture on his return at the RNH Dec 31st 1890 describing his visit to Dr Koch. Present were Drs Davey, Pletts and Buck of Ryde, Chick –Lucas of Brading. Green and Neal of Sandown, Groves of Carisbrooke and Ventnor doctors Stoneham Lowther, Williamson, Bell, Godfrey, Woodford, Robertson and Whitehead.
This Victorian Sputum flask was made about1890 and used at the RNH.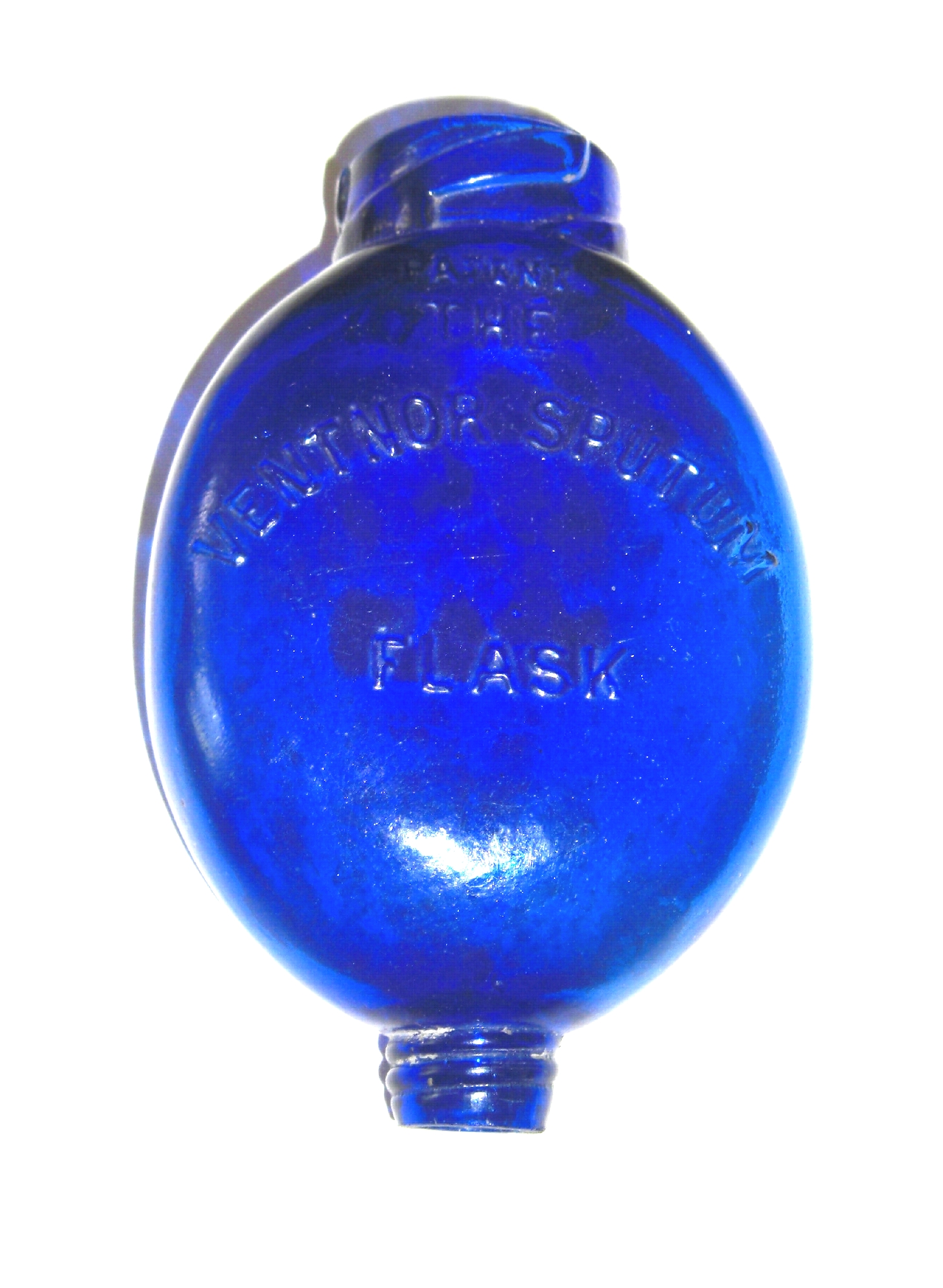 It was photographed with the kind permission of the Owner Steve Milligan of Ventnor.
From " It used to be like this" G. R Hayn es An account of life at Castlehaven.
Our Doctor at this time was Doctor Armstrong, a Scottish
Doctor with a slight stammer. He lived at a house called 'Five
Rocks', quite secluded, behind a screen of dark fir trees next to
what used to be Blackgang Coastguard Station. He had a very
fine collection of Island prints, all in neat black frames on the
walls of the hall at 'Five Rocks'. I can see him now, not a very
big man, with what used to be called a Norfolk jacket and hat to
match, with sturdy leather leggings to protect him from the
splashes when he got off the beaten track push-starting his
Douglas motorcycle.
On the carrier of the motorbike firmly strapped on, was his
little Gladstone leather bag. The road past Windy corner had not
slipped away at this time, so he could get through to Niton
pretty easily. He later changed to a -Bull-nosed Morris, which
was much better for him. He was never known to ail. On being
asked why this was, he expressed the opinion that the bugs ate
one another so leaving him unscathed! I feel that his modest
bills were not always promptly paid as money was short in those
days with some of his patients.
References.
2. County Record Office Card Index and The Hearth Tax Returns for the Isle of Wight, 1664-1674. Ed P. D. D. Russell, I.O.W. Record Series No.1, 1981.
3. Whitehead, Dr J. L. The History of the Undercliff, 1911
4. Eldridge, R. J Newport, Isle of Wight, in Bygone Days, 1952.
5. Whitehead, Dr J. L. The History of the Undercliff, 1911 .
6. Eldridge, R.J. Newport, Isle of Wight in Bygone Days. 1952
8. Arnold-Foster, D.' At War with the Smugglers'. 1936.
9. Laidlaw, Dr Eric The Story of The Royal National Hospital, 1990 and the History of The Isle of Wight Hospitals. 1994.
10. Mark Norman's Memoirs edited and published in Old Men Remember. Ventnor and District Local History Society.
11. Pigot's Directory. 1830.
Other Doctors.
Coombs Milbourne Luscombe Bloom. J .P, St Nicholas House, Newport, Born in Devonport 1857 Durham Univ.LRCP, LRCS LM, Edi.n. MOH and Public Vaccinator Newport. He married Maude Foster, daughter of William Frederick Foster, surgeon. In practise more than 25 yrs. Hants at the opening of the Century 1903
Godfrey Frank San Roque, Nettlestone Born Salisbury 1842 LRCP, LRCS LM Edin 1895
Served under Garibaldi.
Groves Joseph Glenfield, Carisbrooke, M.B., B. S., Lond. MD FGS, FRSS.FRMS.FRHS. MOH Pres INC soc of M.O.Hs.
Author: The Treatment of Insanity
The IOW as a Health Resort
House Sanitation in Rural Districts
Rural Water Supplies.
Underhill, Sydney Valentine Hercules. West St., Newport. St George's Hosp MRCS Eng., LRCP. Lond. Medical Officer IOW Workhouse Infirmary.
Ross Tidd, Henry . Bembridge House Bembridge Dublin Coll of Surgeons FRCS, LRCP, FRAM, Ireland Born Newry County down 1862
Lowe George may Lowe MD The Rays, Newport Born Cheadle 1843 Univ Edin MB 1866 ,MD1869 FRCP Edin 1897. Consulting Physician IOW Eye Hosp
Dr Woodford MD St Davids Ventnor
Dr Bassano, Grove Hose Ventnor.
Robert Charles Halpin Kennedy, of Clarenot Rydeborn, Wicklow 1873 BA, MB, Bch, BAO Trinity Coll Dublin RMO Royal IW County hosp
Hoffmeister William MD M. V. O. Clifton House Cowes Born Cowes 1843 MD 1865 MRCS Lm !865 LRCP !866
Jolliffe.Walter John born at Yafford House son of John 1856. MRCS, LRCP. LM Edin
The French Doctor
Pieree Louis Marie Charles Auguste le Moutant du Rocher, (Ange) MD France Count of the Holy Roman Empire. Born of a noble Royalist family in La Vendeé in 1816 He died aged 63in 1879
He was buried in Carisbrooke church yard. He was skilled in the treatment of Cancer and Cholera
Dr Waterworth Discovered the Chalybeate Spring in 1807 Geol. Natural waters containing iron salts in solution.
Chalybeate Mineralogy: an iron carbonate iron ore
Alums : Isomorphous compounds
R1 SO4 Riii SO4 24 H2O Where R 1 is Na or K and RIII is Aluminium, Iron, Chromium or Manganese.
Dr Benj. Jolliffe MD and Dr William Moore MD mentioned on page 24 as members of the Sandrock Spring Society
Plague on the Island 24th. Oct 1666 to 19th. Jan 1667. No records in Newport
Description of the birth of a monstrous chylde in the IOW. 1n 1552 1556 Checklist no 2
Report of the Infirmary Committee. 1845
Until 1849 the only hospital available to islanders were at St Mary's Newport (for paupers only) or at Winchester. In 1845 influential citizens first mooted the idea of an Infirmary in the Ryde. In particular Mr Dodd, a surgeon from Chichester who had come to the island for the benefit of his health (he was consumptive and died before the hospital was built) ,devoted himself to the project. It was then estimated that a £300 a year would be needed to keep it just 10 beds going and the committee was formed to raise funds. A gift of land was made by Miss Player and Captain and Mrs Briggstocke; and by November 1848 a building, designed gratuitously but Thomas Hellyer, the architect of Holy Trinity and St John's Churches was largely complete. By this time the fund subscribed reached £1,600 the Committee of Management " only waiting to open the and firmly into their funds would allow them to put it into an efficient state. In the course, however, of the month of July,1849 it was opened for the reception of cholera patients and 21 persons were received and placed under medical treatment during the month. It is hoped that the clergy of the island will preach sermons annually on behalf this important charity, from which considerable addition to the funds may be anticipated".
Some criticism at was levelled at the choice of Ryde as the centre but at the original report of 1845 had pointed out, the situation of Ryde, well known for its salubriety, its proximity to the sea, affording as it does every facility for a hot and cold sea water baths, and the fact that it within a range of 12 miles it is had nearly 36,000 inhabitants, forming four-fifths of the whole population of the island quotation marks provide its justification enough for the choice. The value of the institution was proved by its constant and increasing pressure on its resources. In 1866 accommodation ran to 36 beds. Two new fever wards were then added in 1872.. Improvements and extensions continued. In 1899 Queen Victoria opened a children's wing. Another new wing was added in 1907 and an operating theatre in 1910, X-ray and pathological departments followed later. By 1937 accommodation had reached 88 beds and by 1947, 117.
OBITUARIES.
OBITUARY OF JOHN JOLLIFFE
There has passed away, a well-known and deeply honoured man with a wide circle of friends in the Isle of Wight, an officer and a gentleman whose memory we desire to keep green for a long while to come - John Jolliffe Esq., Staff Surgeon; Royal Navy. He died on the 12th September 1891 his peaceful, lovely home "Thorncliff", Niton. His family have had their birthplace in the Island and neighbourhood of Portsmouth through many generations. His' father, Col. William Jolliffe, RM., was born at Landguard Manor at Shanklin and died about 40 years ago. The subject of our notice 'was the second of his four sons, only one of whom - Col. Charles Jolliffe, RMA, survives.
Deceased embarked on the medical branch of HM Navy in 1845 and thence continued until 1862, seeing active times in stirring boat service on the coasts of Borneo and in the Mozambique, where in those days, as now, the sailor of England was the dreaded antagonist of the Arab slave dealer. For efficient service performed in this latter field, the deceased, after being about two years afloat, was promoted to the rank of full surgeon (the staff surgeon of present days) the youngest of his rank ever so advanced and this only by special order in Council.
Dr. Jolliffe also worked in the field of science, botany especially. During five years of exploratory service in New Zealand in 1851-56, he received special recognition from the Admiralty but his active and promising career was prematurely cut short by illness contracted while on active service on the great rivers of South-Eastern and South America. Returning to England with broken health in 1862 he had to spend upwards of a year in Haslar Hospital. On leaving he was placed on the Retired List and some years afterwards was awarded a good service pension. The last twelve years of his life were profitably spent by Dr. Jolliffe in doing deeds of kindness to all who came across his path at Niton and he now lies peacefully at rest in the churchyard overlooking the home and village which knew him so well.
The funeral took place on wet day in Niton Church amid n any evidences of deep respect. Most lovely wreaths, crosses etc. were suit by near and distant friends a large anchor of his favourite flowers was exquisitely made by Mr. Welham, gardener at "Thorncliff." Owing to the sudden-ness of his death but few could reach Niton in time to follow his remains to the grave..
The first carriage contained his only surviving -brother, Col. Charles Jolliffe, Mr. Marmaduke Cradock, his nephew, and Mr. Blakeney, brother-in-law. All the servants road in another carriage and carried "Thorncliff' flowers to strew on the master's grave. The service was most impressively read by the Rector, the Rev. W. Sells.
Mrs. Jolliffe takes this opportunity of thanking all kind friends for the many tokens of affection and sympathy she has received.
Continuation after obituary:
The late Mr. Roach Smith wrote in his "Retrospections- Social and Archeological." of Dr Jolliffe
"He was articled to me and after four years at the London Hospital and': College at the age of 21 he obtained the Diploma. of the Royal College of Surgeons, having previously gamed at the London Hospital School of Medicine, an Anatomical prize valued at over eighty guineas. In 1845 he passed his examination and obtained a commission as Acting Surgeon RN and at once joined the RN Hospital at Plymouth. He thence proceeded to the East Indies on H M S "Ringdove." In the following year he joined the "Agincourt" and was in this ship at the capture of Brune, the chief town of Borneo. In the same year, 1846, he joined the "Iris," a 26 gun frigate, under the command of the late Admiral Sir Rodney Mundy, and was present at several engagements with the Borneo pirates on the Tarnpassook, Pandassin and Ambong Rivers and along the coasts. In 1847 he joined the flagship "President on the Cape of Good Hope Station, under the command of Vice-Admiral Dacres, and was engaged in attacking a formidable slave establishment up the Anghoz River in Mozambique on the eastern coast -of Africa. For his services on this expedition he received the thanks of the Board of Admiralty and promotion to the rank of full surgeon. He next passed over five years on "HMS Pandora," employed chiefly in New Zealand, surveying the coats and harbours and exploring the rivers and estuaries of that beautiful and interesting country. During this expedition the collections in Natural History, such as botany, zoology, conchology etc. wore under his direction and were moo chiefly by himself. For this voluntary service he received official thanks from the Admiralty and from other sources, such as Sir William Hooker, Kew, Sir Hugh de la Beche.etc. and in after years the Good Service Pension. Dr. Jolliffe's latest services in the North America, West Indies, Central America, Brazilia and South American Stations as far south as the sterile Falkland Islands and Cape Horn. This included a considerable time in Rio de la Plata and in trips to Montevideo, Buenos Aires and nearly 1000 miles up the `River Parana to a distant city of Rosario. But this active life vas prematurely dosed by malaria poisoning contract on the coasts of South America.
The late Dr. Foster. May 17th 1952
To the many that knew him as a devoted doctor and sportsman the announcement of the dead of Dr. Stanley Foster must have come as a terrible shock and have been received with much regret. He served the people of Newport for over fifty-two years, until his retirement four year, ago at the age of eighty. In his younger days he regularly rode with the foxhounds and won races at the Ashey Point to point meetings. Up until his eightieth birthday he also enjoyed a game of tennis. He was the eldest son of Dr William Foster who was to practice in Newport until his death in 1597. Taking over the practice from his father he in latter years went into partnership with Dr Dowdall. He lived out his retirement in a flat at the Dower House in Pyle Street where past patients always ensured that the house never lacked flowers. He was medical officer of health for the borough from 1911 until 1926, a period that saw him active as a doctor at No.6 High Street where his father had practiced before him, the house being that of other medical men for one hundred and fifty years.
One of his favourite stories was of the time he visited a patient who lived in a country lane near \\lrippingham, and how lie tethered his horse outside whilst attending the lady in her house. He happened to look out of the window and discovered his mare was blocking the way of a horse and carriage. On going outside he discovered none other than Queen Victoria sitting patiently in her carriage. With his usual charm he tendered his apologies and was rewarded with a smile from Her Majesty.
Dr. Aubrey Heathcote who died in 1987
Dr. Heathcote was certainly one of that rapidly dwindling breed, a true character. Many Newportoniarns remember him to this day with great affection for his dedication to his professional duties, his bedside manner as well as his love for a drop of the hard stuff. lie retired in 1975 at the age of seventy-three when a cocktail party was held in his honour at the Waverley Hotel in Carisbrooke. Just what our good doctor thought of cocktails we shudder to think. lie was a man who did not suffcr fools lightly, a man who had a wonderful vocabulary when the occasion demanded, but for all that. a man who had many more friends than he had enemies. It is said that during his thirty-nine years whilst in practice on the Island he delivered over three thousand babies, no doubt the majority of those at the families homes.
Stories of our intrepid doctor are legendary and we print the following with his family's blessing. One day lie was driving around Cox Corner at Whitecroft when the tenant of Gatcombe House at the time, a man of military background, came the other way. Both were men who were used to getting their own way, but unfortunately on this occasion, both were on the wrong side of the road. It was for this reason alone that nobody was hurt but this did not stop each of them giving the other a piece of their mind. Suddenly they both realized that they were the worse for drink, so compromised and went their various ways.
To be continued.
The author would be pleased to hear of more references or interesting stories.
alan_champion@39springhill.freeserve,co.uk